Superintendent's Report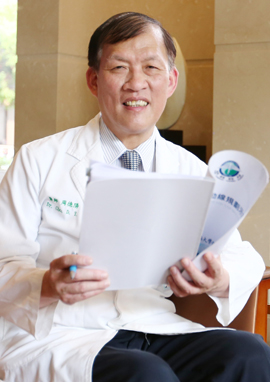 CMUH Superintendent Der –Yang Cho
Superintendent's Report
Superintendent's Report
Establishing one superior, distinctive and efficient modern hospital.
The medical industry advances with vigorous progress while the diagnosis and treatment for disease vary constantly. The demand for medical service quality has become a general expectation and requirement for the public. Nonetheless the public has long been discontent with the service efficiency and management. As a modern hospital, CMUH has long conformed to the standards of superior, distinctive and efficient hospital for the medical system of China Medical University.
CMUH accepts the JCI accreditation to improve superior healthcare for the medical system of China Medical University. JCI accreditation is an international accreditation that is known for patient safety and medical quality. In October 2010, CMUH has received such honor and was awarded with the first academic JCIA accreditation in Taiwan in 2014. The hospital management stays in line with the world and has internalized the standards as the culture of CMUH medical quality through focusing on the standardization of medical treatment, system formulation, and error-proof and fool-proof system. CMUH continues with reforms in modernization and eventually received Smart Hospital Mark from Taiwan Joint Commission on Hospital Accreditation.
With regards to quality improvement, CMUH launches holiday ward rounds with attending physicians, defining the authorization of medical conducts by the physicians in order to protect the patients. CMUH also develops sub-discipline and provides opportunities for advanced study in Taiwan and abroad to encourage young physicians with re-education, studying doctoral and master programs. CMUH also introduces new medical instrument such as da Vinci robot arm, develop minimally invasive surgery and intervening cerebrovascular and cardiovascular therapeutic apparatus while concurrently introducing proton knife and heavy-particle instruments to turn CMUH into the tumor therapy center with the most complete and advanced cancer treatment.
To develop the characteristics of the department, CMUH adopts the 10-year plan as the foundation to develop one characteristic per discipline and review the project proposed by each discipline for arranging the order of priority development. CMUH concurrently makes big investment in relative medical instrument and equipment to establish the leading position of CMUH in medical technology in the next ten years. Currently CMUH focuses on transplant, minimally invasive, stem cells, translational medicine, intervening surgery, cancer, and acute and critical disease treatment in addition to developing biomedical innovative industry.
Medical management values humanity and respects the opinions from system peers. The launch of any system emphasizes on communication and will only be promoted easily when the system becomes easily understood by everyone. To add more efficiency to management, computer control can be applied to enhance the performance with emphasis on appraisal and distinctive punishment and rewards.
The medical environment faces with increasingly challenges and only efficient, distinctive and disciplined team can endure the test for survival and development. The various reforms aim to transform this hospital into one international and modern medical center soon possible.
Purpose
Advocate for the basic human right of human health.
Value
Respect patients, value employee and be proud of hospital
Mission
Provide distinguished and holistic medical service;
Demonstrate the instructional and research function of university hospital;
Promote Chinese medical features and advocate for modernization of Chinese medicine
Vision
Become the world-leading Chinese and western medical center
Objective
Establish holistic, quality and safe medical environment;
Become the emergency and critical disease and cancer medical center
Strengthen management and establish China Medical System;
Develop holistic medical education and develop learning capacity in all employees;
Integrate university resources and devote in localization and quality research;
Develop international medical service and upgrade international medical position.