Our Speciality
Allergic rhinitis
Allergic rhinitis is the most common chronic anaphylaxis among children, with the incidence increasing year by year. Children suffering from allergic rhinitis are plagued by sneezing, runny nose, and nasal congestion. Though not a serious disease, they can affect children's daily life, academic performance, and even growth and development, for which the division offers oral TCM such as traditional water decoction, concentrated TCM powder or TCM cream. Since some children have low acceptance of drug therapy, the division gives other treatments than medication, such as laser acupuncture, acupoint massage, acupoint application, chiropractic therapy, eye and nose care exercises, and Chinese medicine diet education, joining up with children and parents to overcome allergic rhinitis.

Quality asthma outpatient clinics
The division has a "Chinese medicine pediatric asthma intensive care clinic" for asthma children under 12 years of age. In addition to prescribing oral TCM, it deploys acupuncture, acupoint massage, acupoint application, nasal aerosolization, Chinese medicine health education, and Chinese medicine diagnostic instrument for auxiliary evaluation. The Division of Chinese Medicine Pediatrics, along with children's hospital's divisions of pediatric pulmonary medicine and pediatric allergy, immunology, and rheumatology, integrated Chinese and Western medicine care, providing allergen detection, lung function examination, and other inspection items, so that children can receive more complete treatment and evaluation to monitor asthma control. Some studies have suggested that asthma intensive care can help patients control asthma and improve the quality of life of asthma children and their parents.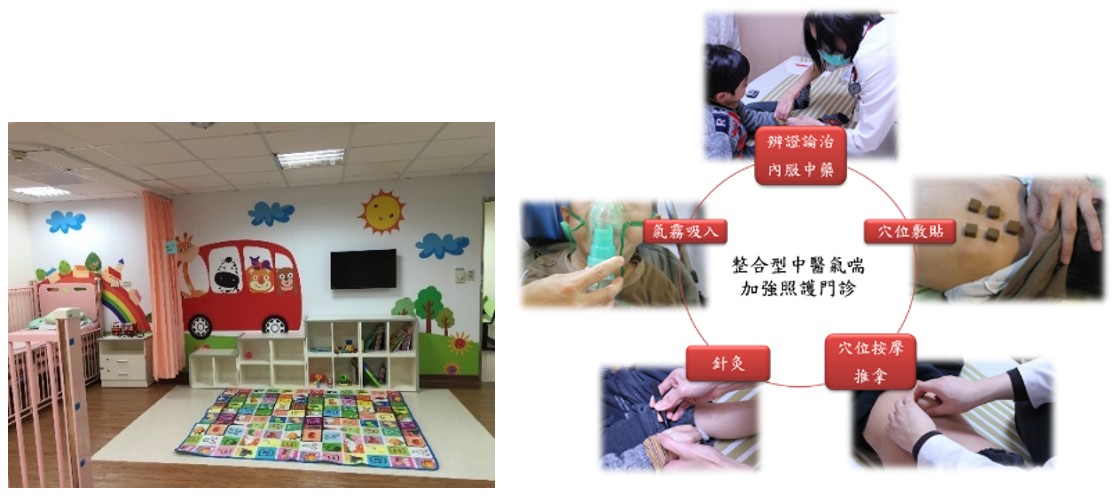 Tourette syndrome
Tourette syndrome is associated with abnormal neural circuits in the brain, often occurs in childhood and sometimes is accompanied by hyperactivity disorder, obsessive-compulsive disorder, and other diseases. Clinical findings showed that 90 percent of children with Tourette syndrome suffer from nasal allergy symptoms and early treatment could improve both conditions.
The division's Dr. Cheng-hao Huang administers both TCM and acupuncture to effectively improve symptoms. For children rejecting TCM, Dr. Huang uses scalp acupuncture in clinical practice and through his special techniques and years of experience, children are not afraid of acupuncture and their condition improves. Dr. Huang also set up a "Chinese medicine exchange platform for Tourette syndrome" on Facebook, offering health consultation and assisting Tourette children and their families to jointly overcome this disease.
Children's cancers
Dr. Ji-yu Fan observed and studied the side effects of chemotherapy in children with cancer, finding that these children's constitution is of "deficiency-excess complication," and thus they are prone to blood cell reduction and fatigue in the treatment process. There is still an unknown risk for cancer therapy if Chinese herbal medicine tonics are used. Therefore, based on the idea of chemotherapy given in different stages, Dr. Fan employs TCM's "purgation-tonifying" properties to adjust the constitution, coupled with the concept of "harmony and catharsis," so that chemotherapy drugs can achieve the best efficacy and relieve the side effects of chemotherapy. As to people with the weak constitution, TCM can be properly taken to build up physical strength and reduce the discomfort of the body caused by chemotherapy drugs to the minimum.
Atopic dermatitis
Epidemiological statistics indicated that about one fifth of the population in developed countries is plagued by atopic dermatitis. Atopic dermatitis is the first out of three phases of allergy, raising the risk of the onset of asthma and allergic rhinitis. Its biggest characteristic is repeatedly itching, and the more you scratch, the more you itch, leading to a vicious circle. A poor skin barrier is susceptible to irritation, inducing discomfort. In order to improve atopic dermatitis, the division is characterized by Chinese medicine bath, while oral Chinese medicine is administered to older children and a wide range of ointments for external use are designed for various skin lesion types. Instructing correct concepts of daily life such as enhancing moisture and avoiding external stimulation, it assists children patients to prevent the intrusion of atopic dermatitis as early as possible.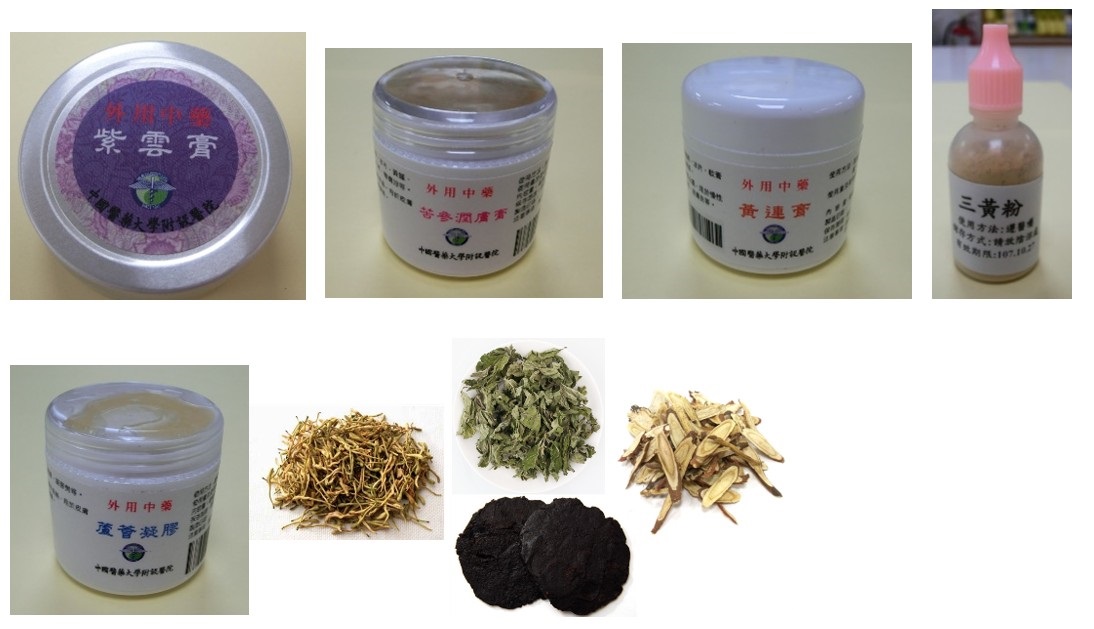 Growth and sexual precocity
With advanced modern medicine, parents expect their children to grow well in addition to being healthy. Parents worry if their children are too thin, too short, or glow too slow or too fast. Through observation of height, weight, and the development of sexual characteristics, the potential problems of growth and development can be detected early. Immediate treatment can improve height and development. TCM should be used at the right time to avoid worsening conditions. The division has a wide range of clinical experiences and studies in this field and is staffed with Chinese medicine physicians who have received Western medicine training in the growth and development of children. It supplies appropriate TCM treatment such as oral TCM, topical navel compressing, acupoint massage, laser acupuncture, and Chinese and Western medicine health education, in an effort to help parents solve the growth and development problem of their children.