Bone mineral density interpretation model
Osteoporosis usually builds up over many years, making bones thinner and weaker. Therefore, it is necessary to confirm whether there is osteoporosis before the bone is seriously damaged or any fracture occurs, and to treat and prevent it quickly so that the condition will not continue to deteriorate.
Osteoporosis is an invisible killer that usually doesn't cause any pain, so patients often do not aware of it until a fracture has occurred. In addition to the fact that the condition is not easily detected, the general bone density examination needs to be tested by professional equipment, but not every hospital has this kind of equipment, so it is a clinical pain point that cannot be ignored.
In order to detect osteoporosis as early as possible, the system uses hip X-rays as a training data set to develop a "Bone Mineral Density Interpretation Model". AI automatically calculates the BMD measurement score, and provides a reference for physicians to arrange further BMD examinations.
This system has a very high potential of development. Due to the lack of bone density examining equipment in southern hospitals or remote areas with lack of medical resources, as long as all relevant X-ray equipment can be prepared by local health bureau, the captured images can be transmitted to the remote and then quickly carried out AI-assisted screening for osteoporosis. The current system accuracy is: MAE (mean error value) 0.048g/cm2.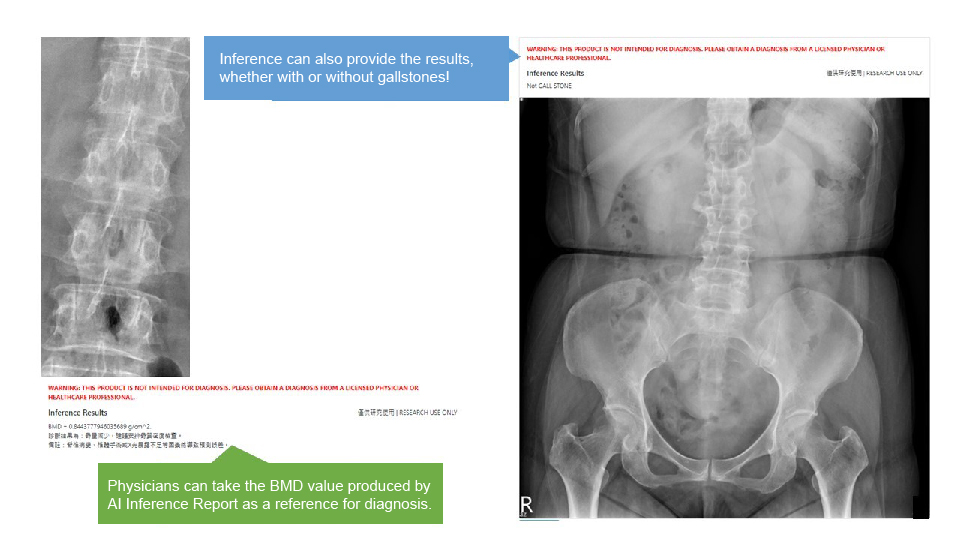 (Figure description) AI results generated by bone mineral density interpretation model